Tis the season for summer weddings! Below are a few suggestions for the wedding party and guests to follow to ensure your plans go smoothly, as well as being socially savvy for the occasion.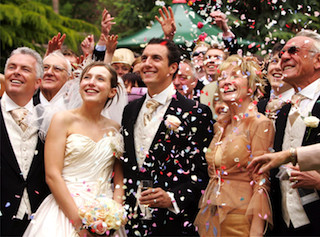 1. Please Reply Promptly
Wedding invitations are usually limited to close friends and family. Feel honored to be invited, and let them know your acceptance or regret immediately. Pay attention to the names on the inside envelope. If it does not say "and guest", do not bring one. (Or ask to bring one!) If your children's names are not included, do not bring them. Be conscious of the hosts and the price per person they are providing.
2. Gifts and Giving
If you have received a wedding invitation, you will want to send a gift to the bride and groom. Most couples-to-be enjoy receiving the gifts they have selected for their registry. Unless you are a very close friend and know the bride and groom very well, do not choose a "unique" gift of furniture, art work or antiques, etc. What may be unique to you could turn into "What are we going to do with THAT," for the new couple. If you must take your gift to the wedding, be certain your card is safely inside the box, or secured firmly to the outside of the present. Many a bride has received that "mystery" gift that haunts her forever, because she knows she never wrote a thank you note to the "unknown" giver!
3. Dress Code
Follow the information from your wedding invitation. If it says "black tie", the men should wear a tux and the ladies either a long dress or a short cocktail dress. If not black tie, men should wear a dark suit and tie to a church wedding. Women can decide what is appropriate by the time of day the wedding is held. You can always ask the bride or her parents.
4. Choose Your Shoes Carefully
Many a mother-of-the-bride or groom has said, "It was a great time, but my feet hurt the entire party." We all know the rule about wearing "closed toe shoes", but if you are wearing a long dress, no one can see your shoes anyway. Why not be comfortable? If you are invited to an outdoor ceremony, do not wear stilettos. You will sink into the grass or the sand!
5. Watch the Alcohol Intake
Unfortunately, some people equate free liquor with a free for all. This is a celebratory occasion, not a college drink-a-thon. Do not embarrass your hosts, or more importantly, yourself. The hosts are unlikely to forget it.
The main theme of any wedding is to send the couple off in celebration of their new life together. Your presence, more than your present, will always be appreciated by the bride and groom. Be a gracious guest, and have fun!