Recently, we travelled to France and England where we toured the Loire Valley, the Brittany area, with a stop in Paris. We then traveled on to London and York, England. The following are some tips that might give you information on planning your trip and some of the etiquette and protocol of the regions.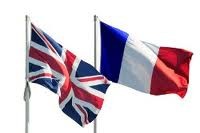 France has beautiful farm lands, but most are small. The wineries are heavily controlled as to the amount of irrigation and production.
At the supermarket, if you do not bring reusable bags, you do not have a bag!
My hot rollers burned up in France. No one seems to use hot rollers in France. I had to revert to velcro.
I saw no tattoos in France. There was more "ink" in England. While in France, I saw no one checking their cell phones at meals.
In Paris, you can always find someone who speaks English. Outside of Paris, that is not the case. You can get a Smart Phone app that translates what you say into various languages.
I wore sweaters and a coat in August, in both France and England!
If you travel on a tour, carry a small bag for your toiletries. Many tour groups require your bags to be outside early in the morning. With a small carry-on bag, you can stay in your room longer and not be so rushed to be ready.
Travel is fabulous fun, but also tiring. Plan some open days, or at least mornings, for recuperation.
Giverny & Stratford-on-Avon were two of my favorite spots, but they are touristy and crowded. If you know your  destination for the day is extremely popular, get advance tickets and go early.
We had fabulous food everywhere!